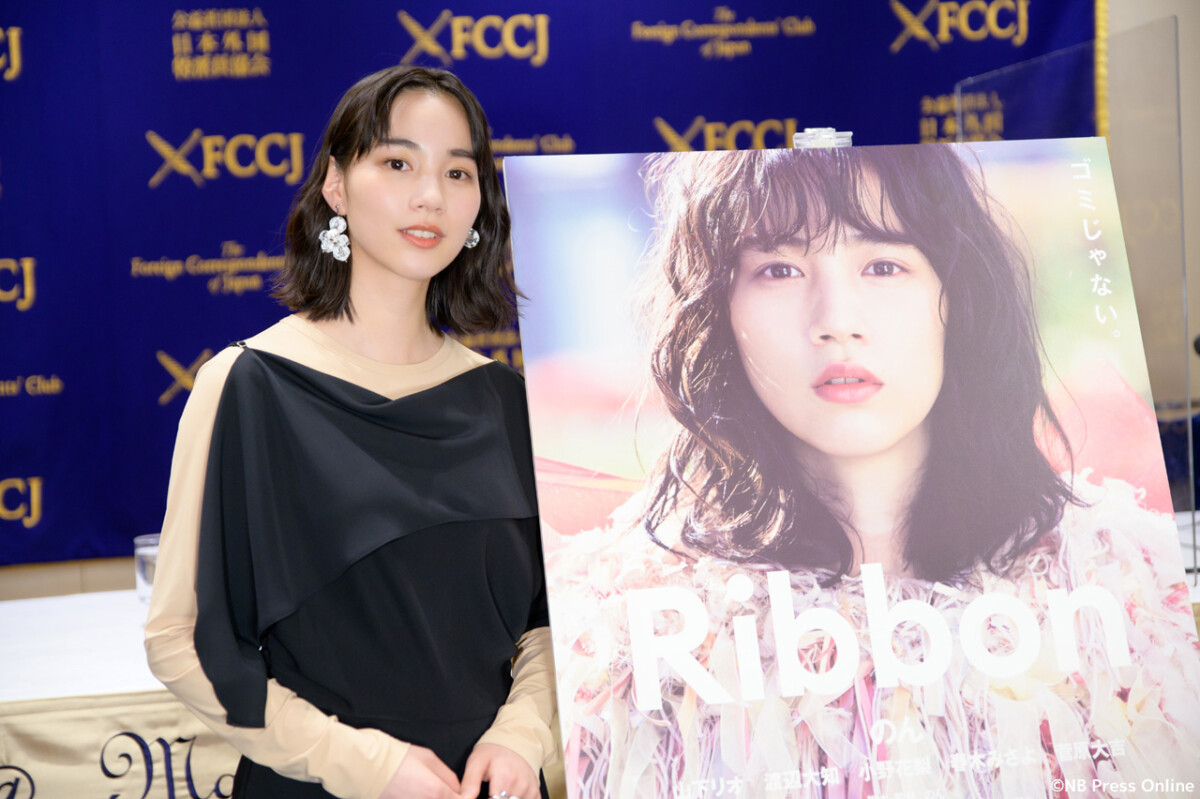 Director Non, "Acuteness and Cuteness. I see certain power when those conflicting charms co-exist.": RIBBON
FCCJ Press Conference for the movie RIBBON.
On the 7th of February 2022, the press conference for the movie Ribbon was held at FCCJ facility (Marunouchi, Chiyoda Ward, Tokyo) where Director Non (Leading Actor/Screenplay) took the rostrum.She answered to the questions from foreign media who had just watched the movie at a sneak preview screening:"RIBBON".
Foreign Correspondents' Club of Japan (FCCJ) was established by journalists and photographers of newspaper company, press agency, magazine publishing house and broadcaster who came and stationed in Japan in 1945 just after the end of the World War 2.
They have been publishing news not only of Japan but also of Asian and holding press conferences by inviting from politicians such as Prime Ministers and Presidents of domestic and international, entrepreneurs and to international celebrities of art, culture and sports field.
In the Marunouchi facility, photos of those past press conferences for such impressive celebrities are displayed, and notably to mention, you will also find photos of Yuzuru Hanyu, Figure Skater, who is now participating Beijing 2022 Olympic Winter Games.
And to note that I expressed my personal comments following to the report of the press conference below.
The report of the press conference
Chair Ms. Karren Severns invited Director Non(Rena Nōnen) into the conference hall, then she introduced Director Non's brief profile in English such as the past her appearance with NHK morning drama series Amachan, and her winning of The Audience Award at the Tokyo International Film Festival for the movie Hold Me Back.
Most of the questions were asked by foreign media in English including Ms. Karren Severns herself.
Translations to Japanese were made by Ms. Mihoko Imai betweenwhiles.
I was stunned to know the sufferings of the art school student
Ms. Karren Severns (Chairperson of the Film Committee Foreign Correspondents' Club of Japan):
In Japan, over the past couple of years, we've been waiting to see what kind of films Japanese film makers make related to Covid 19 and there's been almost nothing as if it didn't exist. Why did you decide that you were going to directly address Covid 19?
Director Non:
Indeed, it was just when the pandemic began that I first came to materialise the story. That was when I naturally started to nurture such feelings inside of myself.
It was when I was wondering what the main protagonist girl Itsuka was like, I was looking into how art school students were doing, because I personally adored art school very much, and found a news report that an art school student who was feeling their art pieces by a whole year work as just rubbish. I was stunned to know the sufferings of the art school student. It was when I started to crystalise my mind that I would have to script this story.
Ms. Karren Severns:
You created such a compelling character Itsuka and it's very difficult to separate you, Director Non from this character Itsuka. How autobiographical was it? You say that it's about art school student that I think you also had some impact from Covid 19.
Director Non:
In terms of the similarities between Itsuka and myself, I was spending boring life at home like just repetitive sleeps and wakes during lockdown period. I reflected such myself into her.
And a kind of dilemma and frustration that Itsuka has is the reflect from my sympathy to such art school students.
I was planning to hold a music festival when the pandemic just began but it had to be cancelled due to the spiking of the first wave of infection. Frustration that I felt then stroke a resonant cord with the ones that art school students might have felt when they had to cancel their graduate art pieces exhibit.
Other than that, just a small detail but you've seen Itsuka often gets injured at her home, that is also like me during pandemic.
I thought because it would make it more realistic as I found, if you spent your time at home all time, you would get a bit paralysed and lose your risk controlling sense, and I guess you might get injured so often. Yes, that is me reflected in the movie as well.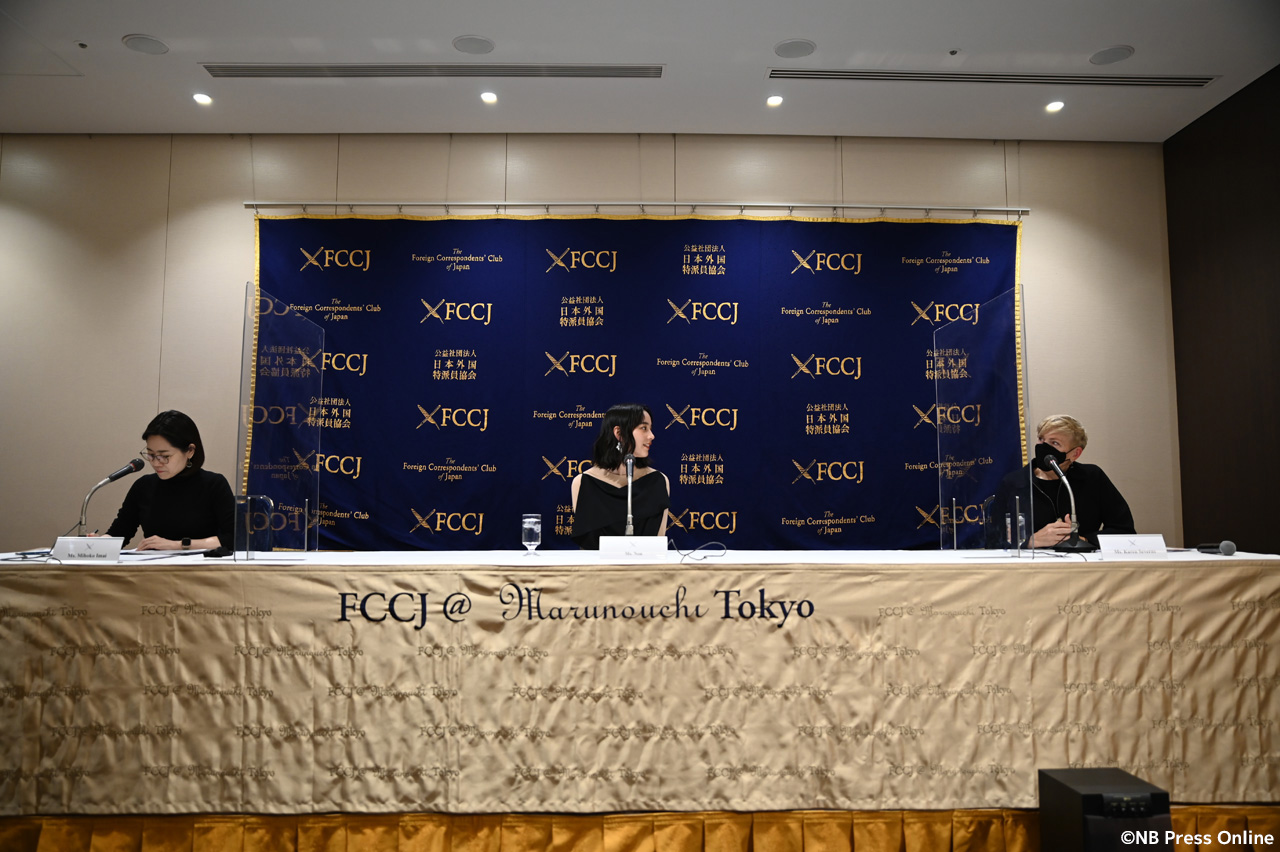 I tried to visualise what I would like to communicate to the staffs
Correspondent Mark Siling (The Japan Times)
I was thinking that the scene ribbons appeared were so striking but the way you described wasn't so obvious, in other words, they didn't have a meaning. Well, in a sense, it was so delicately described. How did you convey those visions to your staffs and to your computer graphics artists?
Director Non:
What I wanted to express with these ribbons was to reflect Itsuka's unverbalised frustration and messy ambiguous emotion.
I guess no one could clearly visualise it by just a description of "ribbons appear" in the screenplay, how it is fantastical with what kind of lighting effect by moving situation or not, or stuff like that.
So, I tried to visualise what I would like to communicate to the staffs as much as possible by collecting any relevant materials, by picturising it with the actual ribbons attached to it to show how it should look like with what tone of colours. And particularly, what I wanted to share with my staffs was my vision which was "Entire screen image looks like a bit weird and extraordinary among ordinary daily lives".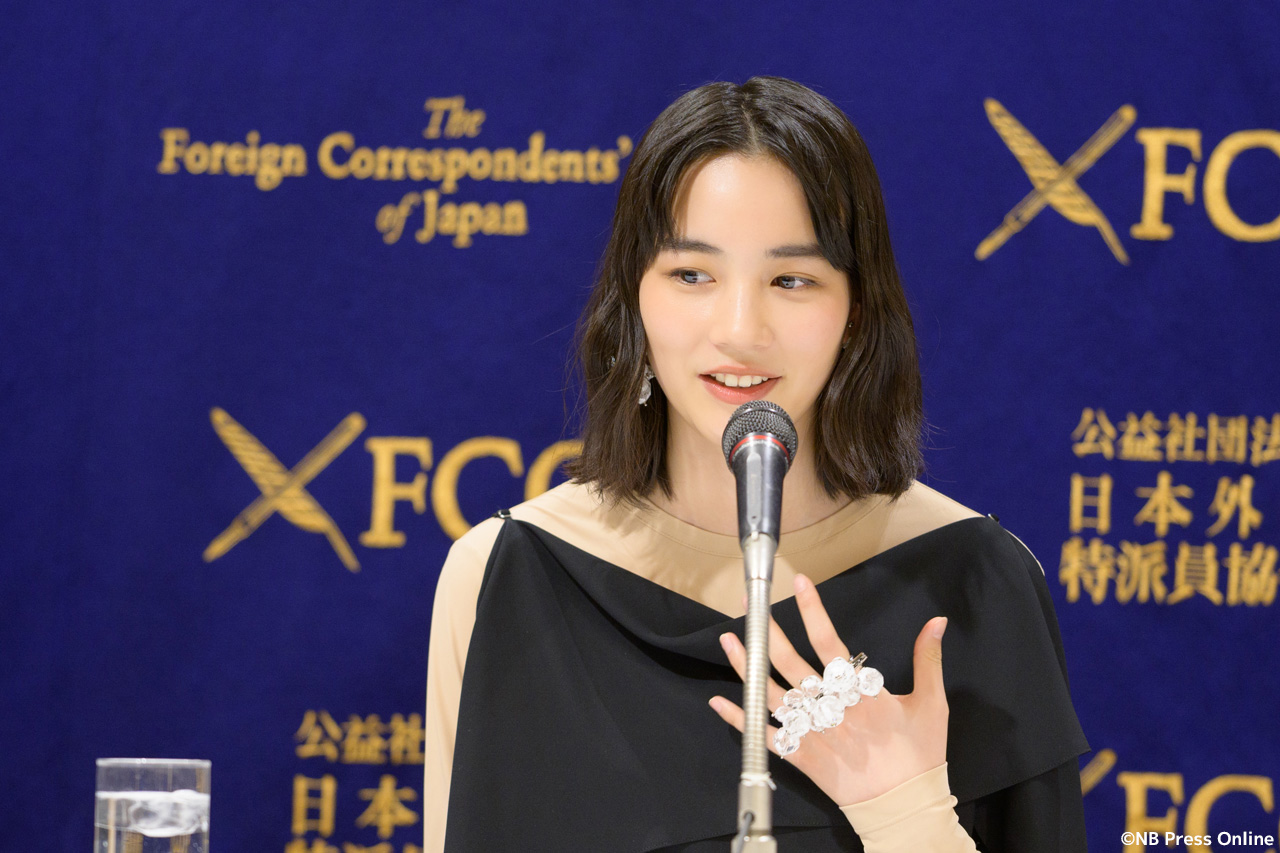 Mr Yoshitomo Nara said that I could be his apprentice
Correspondent John Young Kim:
I assume you didn't have a chance to attend art school, but I am wondering what kind of training you had in the past. In other words. Did you have any painting experiences which brought you to come up with these, your today's activities?
Director Non:
I had always loved to draw paintings and I really got into it when I was a high school student.
I was very interested to know that art school students really draw plenty and that inspired me as well, so I also started drawing as many as possible. Those paintings that I draw often are inspired by my own likes. Anyway, I was drawing and drawing as many as I could.
Then the year I graduate high school, I couldn't help but joining open drawing classes of an art school as I had an aspiration to go to art school.
Then one day, luckily, I had a chance to draw paintings for real with being trained by Mr Yoshitomo Nara as one of a magazine's featured topic. Interestingly then, Mr Yoshitomo Nara said that I could be his apprentice!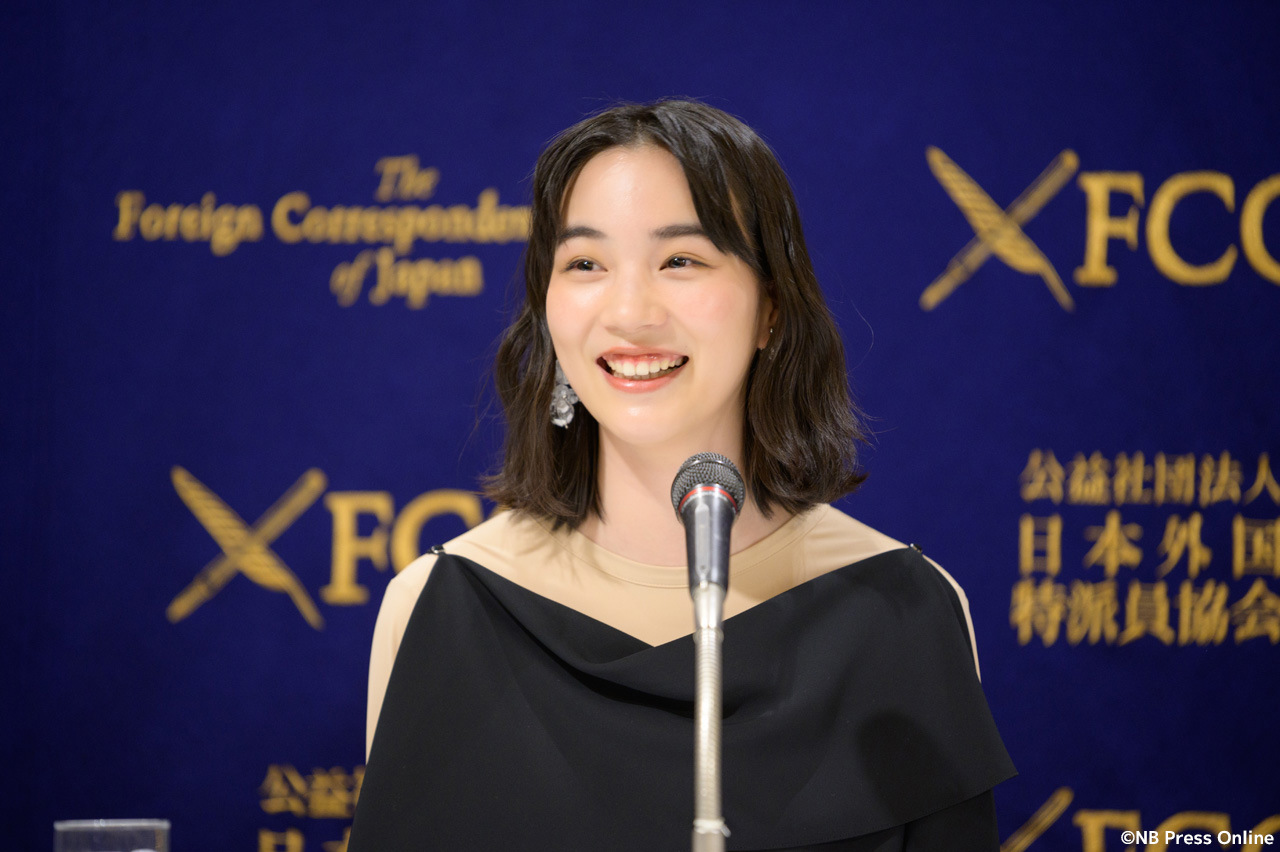 Acuteness and Cuteness. I see certain power when those conflicting charms co-exist.
Correspondent Chang:
I am a Chinese writer Chang from Shanghai. Last year, the movie Ribbon was introduced at GALA section of the Shanghai International Film Festival, and it was very favourably accepted among audiences. Congratulations!
Director Non:
Thank you very much!
Correspondent Chang:
I am very curious to know why you chose, among all other format of arts, ribbon as an artistic subject in the movie.
Director Non:
Ribbon is one my best favourite motif, so I was consciously creating ribbon themed art pieces last year.
Ribbon could be seen as a cute item, but I sometimes see very frightening aspect in it or very frustrating and even ugly side of it like I described in the movie this time. I think it's very attractive, having multiple aspects in one theme. That's what I love it.
Sometimes it can look eerie, sometimes I can find it artistic from close watch with certain lighting effect, even if it may look like rubbish from afar when many ribbons are rounded up. You can appreciate multiple of different looks of it. Again, that's what I love it very much as a motif.
I would like to mention a certain artist by the name Mr Akira Uno. I like his paintings very much. In his paintings, I see a girl who's staring hard at me or an erotic and sexy lady with shrewd look, either one dressing up with cute ribbons. It looks like acuteness and cuteness are co-existing. I see certain power when those conflicting charms co-exist.
I think that also inspired me to make ribbon, as a motif, look like regretting on one occasion and frustrated at the same time or rubbish but beautiful thing depending on the occasion. That was what I embedded in ribbons.
As I was really stunned to know the suffered feeling of an art school student that their pieces of art looked like just rubbish after just one quick blink of time, I wanted ribbon as a symbol of cuteness to look like representing negative feelings as well.
Correspondent Chang:
In the end credits, I see a lot of people are listed, who are so called, the Ribbon Supporters. I would like to know how you came to gather those people to collaborate with the production.
Director Non:
I put out a call for people to my fans. The Ribbon Supporters are who applied to it. I asked them to tie ribbons. The ribbons tied together in the last important scene was made thanks to those supporters.
Are you really serious!?
Correspondent Norman:
Congratulations on making such a wonderful movie. Though you mentioned that ribbons were representing negative feelings, but it looked really beautiful in the movie. As beautiful as the leading actress that I thought.
I have a gallery in Tokyo. I am celebrating 50th Anniversary of the gallery this year.
Please kindly allow me to ask you, Director Non, if you are interested in exhibiting your piece of art at my gallery. You could bring all of your own ribbon themed pieces.
I would nominate you for the Ribbon Queen of Japan if you would accept my offering. I'm not joking!
Director Non:
Thank you very much for the proposal. Okay, only if you can bring the contract documents next time.
(With a bit mischievous face like her own character Warui-chan) Are you really serious!?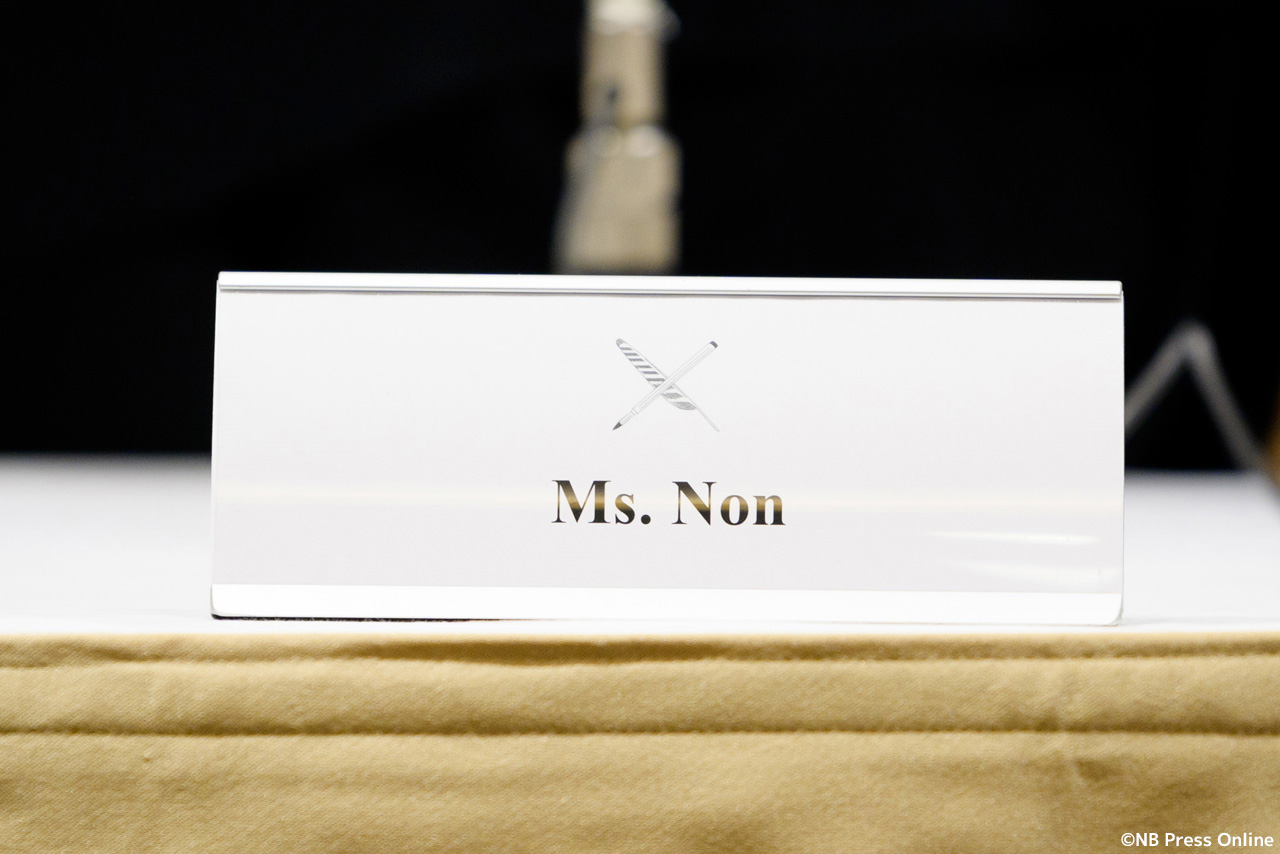 The ones which encourage Director Non's creativity
Ms Karren Severns:
There was a person who encouraged Itsuka in the movie and that reminds me of one question for you, Director Non. Do you have in mind someone who encouraged your current creative activities?
Director Non:
Well, first of all, I can't thank enough the current team staffs who are working with me, supporting me very much. They are invaluable to me. I feel they also accept myself and my activities and work very hard together.
Going back a little into my past before I started to film a movie. I had one friend who was filming movies privately and I had a chance to join its filming work for a day. I dangled sound recorder from my necks and poking out mic boom with both hands, well I was fulfilling a sound recorder part.
It was a very memorable experience for me. It was like my adorable one page of the adolescence. The friend then told me that I would be able to write a good screenplay, that I was delighted a bit but doubted if I could then, but the words of my friend remained in my mind irresistibly until now. Today it brings me to actually write screenplay and to film movies.
Inspiration from Director Shunji Iwai
Ms. Karren Severns:
So now for the final question, please.
Journalist:
I had certain idea in mind. From the start of the movie, I felt the tone of colours and lighting in its visual could have been inspired by the movie Undo (1994) by Director Shunji Iwai. Do you think you have been inspired by Director Iwai?
Director Non:
Definitely, I like movies by Director Iwai. Particularly to note, for example, is Hana & Alice (2004/Anne Suzuki, Yû Aoi) in which girls appear in the movie are not necessarily a good girl or rather so mischievous. Mischievous girls naturally fail or face very funny accidents in the movie due to their character, that is what I feel something twinge in my heart.
But to note of the movie Undo. I honestly hadn't yet watched it before I wrote the screenplay of this piece Ribbon. No one can prove it though!
But seriously, it was because I liked ribbon as a motif, it was because I had a visual of a girl dressing up with ribbons, and it was because I knew some visuals created by Director Iwai, I came to realise that it was stunningly impressive when I saw threads got entangled in the room in the movie Undo during my study of Director Iwai. Eerie but beautiful. That is exactly what I have been inspired.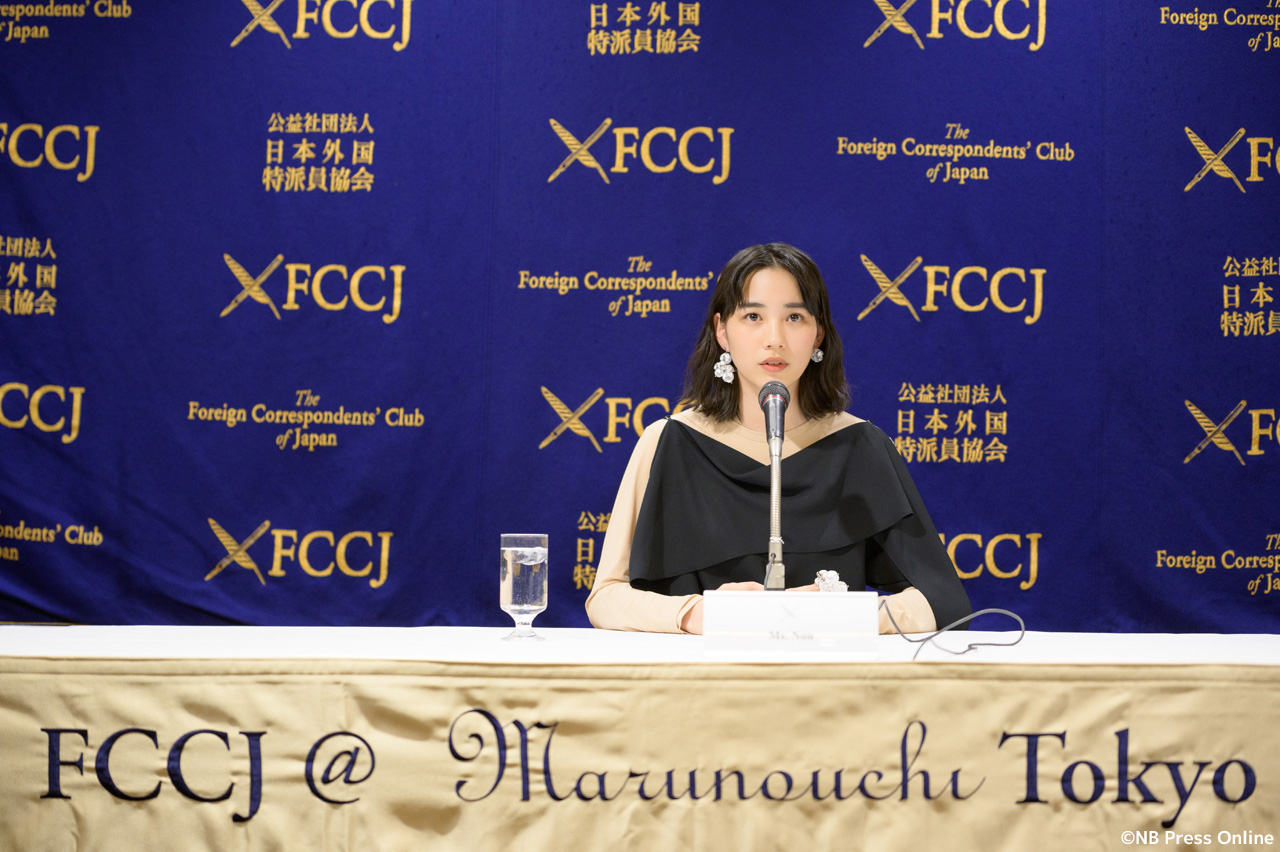 Final message
It was when the conference was about to close, Director Non burst out and said, "Let me speak one final message from me, please". Then she talked determinedly.
Director Non:
Although this movie describes an art school student Itsuka who had no choice but to let it go cancelling the graduate art pieces exhibit, Itsuka could be all students, everybody in the world. More or less, everybody sacrifices their own lives by prioritising vulnerable lives during pandemic as we still hear it is rampant with the news reporting of number of infections, dying people and hard-working essential workers.
New rules come instantly then you must suddenly and inevitably change your lifestyle.
Ribbon represents such situation. It is shouting and vomiting their unreleased sacrifices on behalf of the people who still can't claim their liberty until even today.
So, I really wish people who watched the movie could release their frustration and dilemma and feel rewarded for their sacrifices. I truly would like the movie to be watched by many audiences.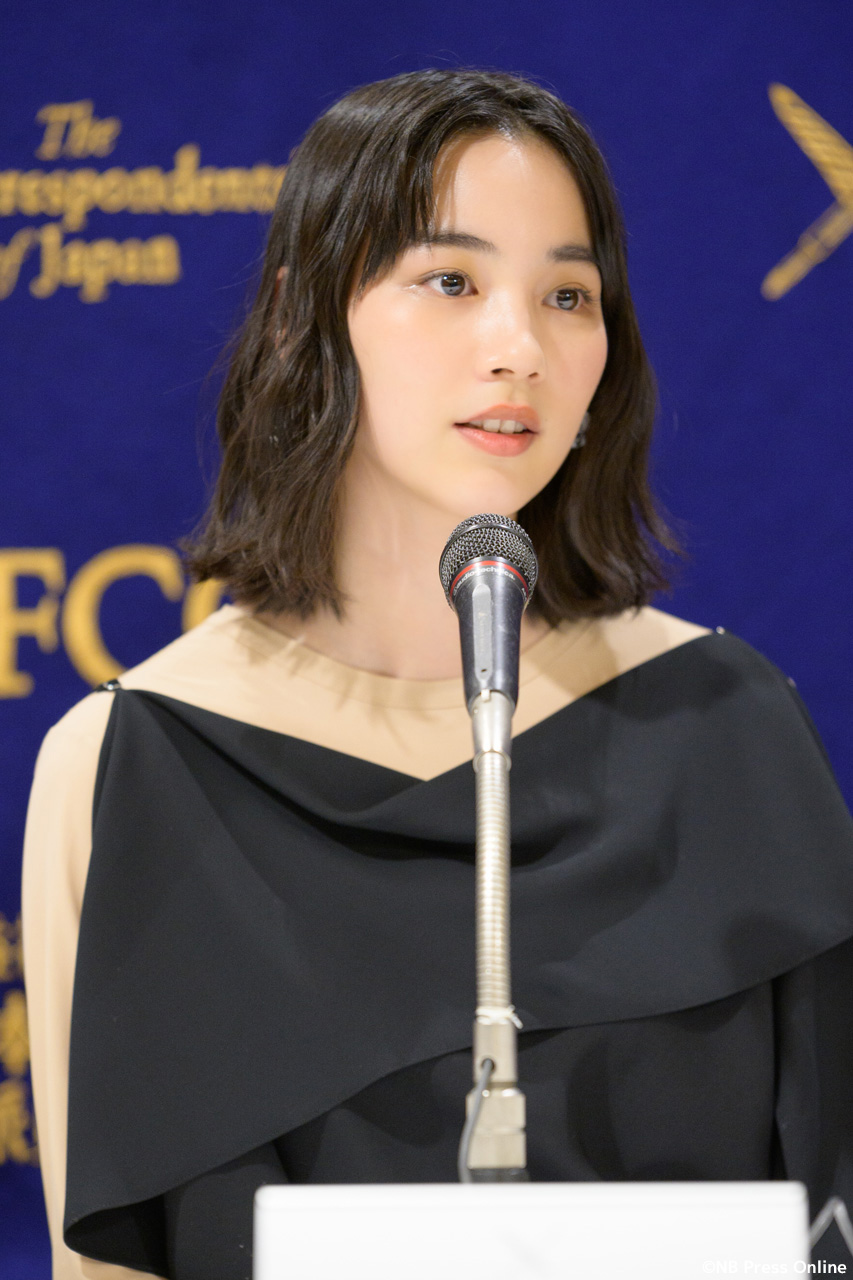 Ms. Karren Severns:
I am just speaking personally now. But I believe what we, as audiences, can take from the movie and bring back to home would be Director Non's very infectious energy and a hope of can-do attitude. And I think that is something especially for younger people.
Finally to Director Non, I truly would expect you would come to FCCJ again with your new piece of work.
Director Non:
Thank you very much!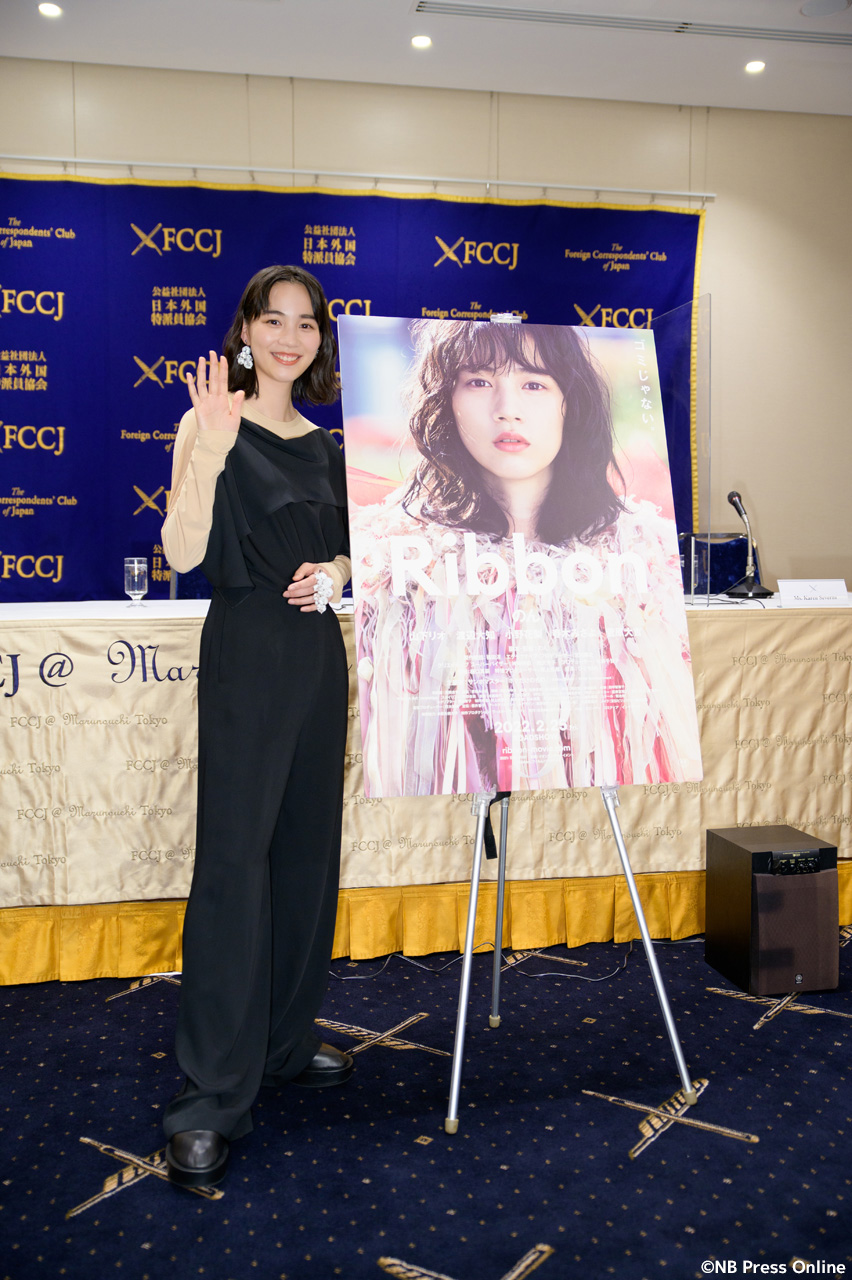 Reporter's Comments
I personally have never seen Chair Ms. Karren Severns herself asking so many questions through my several experiences of the past press conferences of other movies.
That indicates, if I assume, that she is rather much attracted by the character of Director Non herself, in addition to the movie Ribbon.
I would also note that it was quite impressive when I saw Director Non herself answered to the questions without any sign of hesitation and even tried to pick proper names appearing in the movie which were dropped through translation and reassured to cover all questions by carefully listening even to the original questions in English.
[Photo: Ichigen Kaneda and Jun Sakurakoji, Original report: Jun Sakurakoji, English translation: Ko Sampei]
RIBBON
STORY
Itsuka (Non) is an art student who's putting the finishing touches on her graduation project when her college is closed due to Covid.
The graduation exhibition is summarily canceled, and students are given just a few hours to either haul home their work (much of it is site-specific and thus not portable) or toss it in the trash. With this shining moment of their youth stolen from them – and with job offers suddenly being revoked, as employers delay hiring amid the pandemic – Itsuka and her best friend Hirai (Yamashita) struggle to hang onto their future promise.
Overview
Non has created an exceptionally engaging coming-of-age story in "Ribbon," anchored by her irrepressible spirit and her metaphorical expression of emotion through ribbon art.
Her special effects team was led by "Shin Godzilla" director Shinji Higuchi, who animates the film's ribbons so they dance in response to Itsuka's many moods. Non herself created the character's gorgeous paintings.
Written and directed by: Non
Produced by: Chikako Nakabayashi
Special effects by: Shinji Higuchi
Starring: Non, Rio Yamashita, Daichi Watanabe, Karin Ono, Misayo Haruki, Daikichi Sugawara
Film courtesy of Nihon Eiga Senmon Channel
© Ribbon Film partners
Official website: https://www.ribbon-movie.com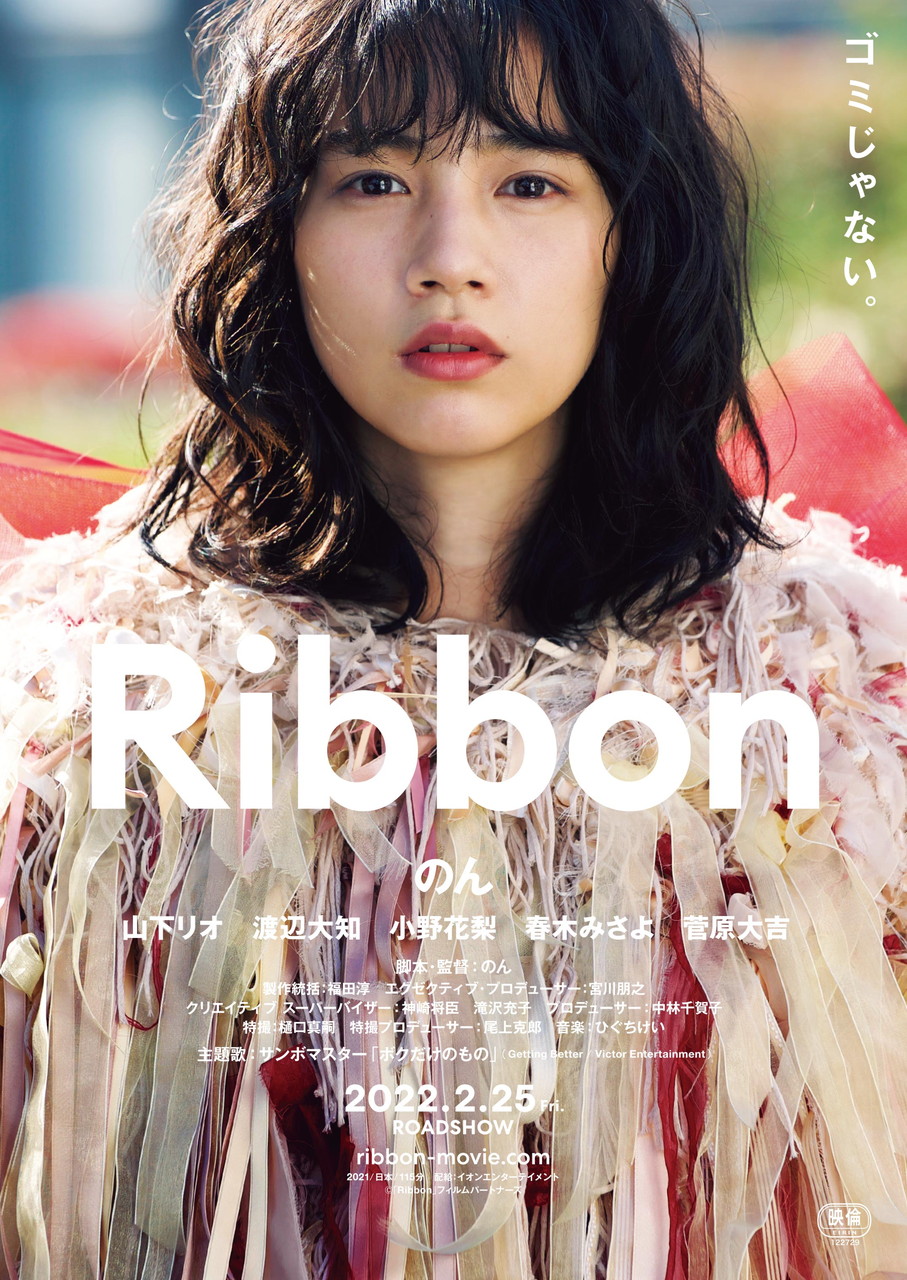 コメント ( 0 )

トラックバックは利用できません。